When I can't get out with my camera–or when I'm thinking about new projects–I like to surf around and get inspired. Today I am sharing eight of my favorite beautiful photography sites that are go-to's when I need some inspiration. I hope you enjoy them as much as I do–and get a little inspired in the process. Click on their names and their websites will open in a new window.
Oh, and if you have any favorite sites (family-friendly, please) share them in the comment section below.
Happy Photography!
This cool site bills itself as "take a picture of a picture from the past in the present." My favorite kind of photographs–the kind that tell stories and come with stories. You gotta check this one out. Just remember, I am NOT responsible for all the time that flies by when you get sucked in like I did.
This site is just full of awesome photography. It's kind of like Flickr, only cooler and with better photography. And they all have titles on them. Ok, so I'm a fan of titling your artwork. Inspiration abounds.
Probably the best travel photography blog ever. Ok, not probably. It is. Trey Ratcliff takes the coolest photographs and is the master of HDR.
I have no idea who this photographer is, but his work is amazing. He photographs people in Indonesia.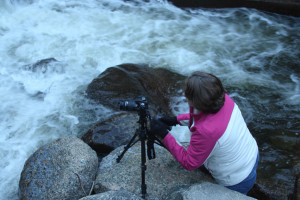 One of my all-time favorites, both as an incredibly talented photographer, and as a person. His landscapes are beautiful.
I love the web. I stumbled on this site and now I just have to keep going back and admiring all his work. Landscapes and nature. Does it make anyone else want to pack their camera and hit the road?
Another gift from the World Wide Web. Erik is a Swedish photo retoucher who is definitely a Photoshop wizard. I love finding what I'm not expecting. Every image is a surreal surprise.
And, last but not least–wildlife photography. I'm ready to go to Alaska now. I can be packed in an hour.
Who would you add to this list?