Christmas—and our celebration of the birth of Jesus Christ—is just a short time away. Before you tell me how Jesus wasn't born in December, I already know that. But we're celebrating his birthday this month just the same.
I have been pondering on this for the last couple of days, since a woman in one of my online discussion groups brought it up. She has a young daughter who wants to have a birthday party for Jesus, complete with a birthday cake—because that is how most children celebrate birthdays. I have no idea what this particular family will do, but I think it's a great idea.
Isn't that what Christmas is supposed to be? It's the celebration of the birth of Jesus Christ. I believe most of us grew up calling celebrations of birth birthday parties. Granted, our celebration of Christ's birth is a little different from any birthday celebration I ever had as a kid, but it's still a birthday celebration.
Now, it's not likely that the guest of honor will be able to attend the party in person, but this has got me to thinking about how we honor Christ at this celebration of His birth.
Cake
A birthday cake is great, and for young children who associate cake with birthdays, this might just be a great way to help emphasize to them that we are in fact celebrating the most important birthday ever. I kind of wish I had thought of this when my children were little. I'd like to think it makes Jesus happy when he hears those sweet children's voices sing him a chorus of "Happy Birthday to you."
Decorations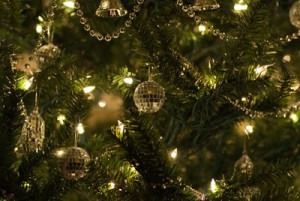 What's a birthday party without the festive atmosphere? When my kids were young and had birthday parties, we decorated with signs and streamers and balloons and cute centerpieces. For Christ's birthday party, we traditionally celebrate with trees and lights and other festive fun. Most of these beautiful decorations are symbols that can help remind us of Jesus and the true meaning of this holiday. If you aren't familiar there are several websites that explain them. Here's one with some very simple explanations (and a Family Home Evening lesson if you'd like a teaching moment all laid out nicely for you).  And here is another site that explains the history and symbolism of quite a few more of our Christmas decorations and traditions.
Gifts
This is the biggie, isn't it? Who doesn't love getting birthday presents? At Christmas, we celebrate Christ's birthday by giving gifts to one another even though the "birthday boy" has given us the greatest gift of all: the promise of salvation and eternal life with Him and with our Father in Heaven. How awesome that Christ's birth is not about the gifts He will get but the one that He gives to everyone who has ever lived and will ever lived upon the earth, no strings attached. So we are the blessed recipients of His birthday gifts, but have you ever thought about what gift you can give Him? While we cannot really give Jesus a gift wrapped up in a box with a bow, we can certainly give Him gifts of ourselves.
This is something I ponder on every year at Christmas. What gift can I give to honor His birth? What can I give that will adequately express my love and appreciation for His life and especially for His gift to me? Beyond renewing my commitment to try and live His teachings, I most often think about following His example to love and serve others, so for me this means seeking out opportunities to serve. Whether it is serving my family, serving in my church or serving in my community, I believe finding and participating in opportunities to serve others as He would have is a gift worthy of giving to Him.
I love this short little video about the gifts of Christmas.
And this one about the Greatest Christmas Gift of All.
By the way, if you're looking for more ideas about how to bring more meaning to your Christmas celebrations, I highly recommend Celebrating a Christ-Centered Christmas by Emily Freeman and 12 Gifts for Christ by Merrilee Boyack.
What gift will you give Christ this Christmas?