I'm on vacation today, so you're getting one of my favorite photography posts that I've moved to a new home here.
The Mt. Evans road is the highest paved road in North America.  When it was first built it was the highest paved road in the world.
I've been in Colorado for more than a year now so it's time I've seen more of my home.  I've been to Rocky Mountain National Park more times than I can count and it will always be my favorite place.  But the Rockies are big and there are lots of mountains.  I'm not much of a mountain climber.  Just being on top of one of the 14'ers (Colorado's 14,000+ foot peaks) can make my asthmatic lungs unhappy, but I'm willing to make them suffer a little for the view.
We decided as part of our family staycation last summer that we needed to spend at least one day exploring a part of the Rockies we hadn't visited before.  A brief internet search turned up Mt. Evans, a mere two-hour drive from home to the top.  Well, it's a two-hour drive if you don't need to stop for pictures. Needless to say, it took us longer.
We decided to head out early, partly to miss the afternoon crowds and partly to miss the afternoon thunderstorms.  We also had the great added benefit of missing morning rush hour because we left home at 6 a.m., just as the sun was peeking over the prairie.
Our first scenic stop was Echo Lake.  We certainly wouldn't have seen this view at lunchtime.
Just after Echo Lake, we headed up the Mt. Evans road.
As we headed up, the view just got better and better.  Just below the top, we stopped at Summit Lake and I got to indulge my wildflower passion.
I still need a good wildflower book because I have no idea what these pretty little flowers are.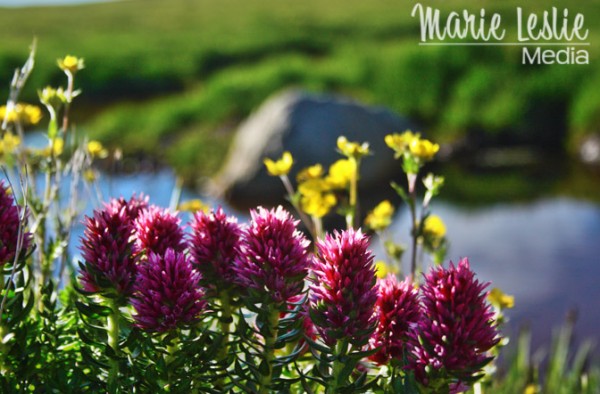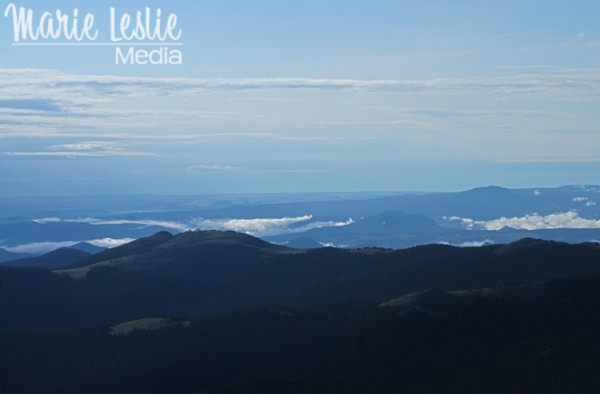 And then we're at the top. Almost.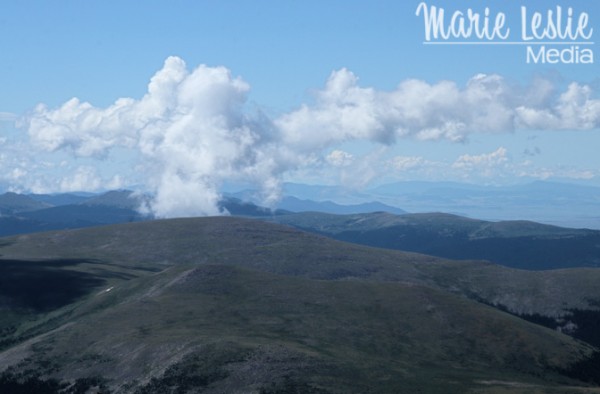 There's a parking area about 100 yards or so below the summit.  After wandering around and admiring the view from all sides, the burned out remains of the Summit House and taking lots of photos, we decided to trek to the top.
We watched lots of hikers making the full trek up the mountain.  I admire their stamina and drive.  I love to hike, but the 14'ers just kick my behiney, so I save my hiking for when I really need it.
The nifty proof that we stood at the top.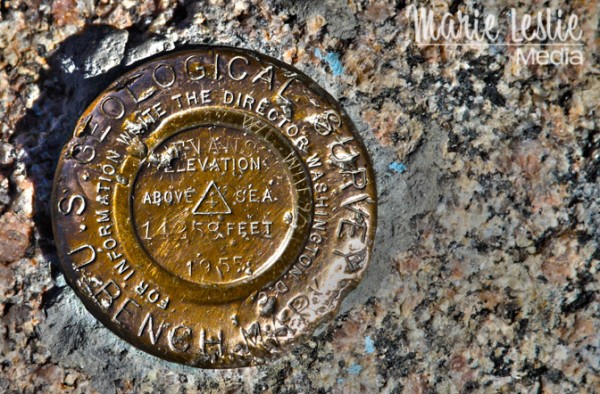 Here I am, bad hair day and all–as high as I can get on the top of Mt. Evans.  Now you know I didn't just visit the postcard shop. If I'd Photoshopped this one, I would have definitely given myself better hair!
While we admired our panoramic view of the most beautiful mountains anywhere, we were treated to a little fly-by courtesy of the Air Force.  When he passed us, he was close enough that we could actually see the pilot.
So, I've managed to summit (after a fashion) two 14'ers now.  Where in Colorado should I head for my next photographic adventure?  If you have any great suggestions for me (and I really do love places off the beaten path) I am all ears.  Just leave me your top picks in the comments below.