Fall is the best time of year to be a photographer.
Really.
Ice and snow make for some cool winter photography, summer is just fun to be outdoors and spring makes for some amazing weather moments, but for those of us raised in the Kodachrome generation, there is nothing like fall to make me happy to be a photographer.
Growing up in Southern California, where fall is generally just brown, windy and often full of wind and Santa Ana smoke, I longed to someday be in a place where leaves turned pretty colors and Mother Nature put on a fine fashion show before wrapping herself in winter white.
And here I am now in beautiful Colorado, where she clearly has not disappointed again this year. In honor of the occasion, I convinced my husband that we should be up and in the mountains for sunrise last weekend to capture fall at its finest. Amazingly, he consented to crawl out of bed and hit the road at 0-dark-thirty to indulge my photographic passions (yes, he really does love me a ridiculous amount). We headed west out Highway 285 and were wonderfully rewarded with this beautiful pink sunrise following the previous night's dusting of snow in the Rockies.
After stopping by this pond outside of Fairplay, we headed up Guanella Pass backwards, as my kids would say, since we started from Grant and ended up in Georgetown, opposite most travelers. Along the way, we were treated to this beautiful waterfall and then rewarded at the top with stunning views of both the immediate peaks and the snow-capped and cloud tinged northern Rockies.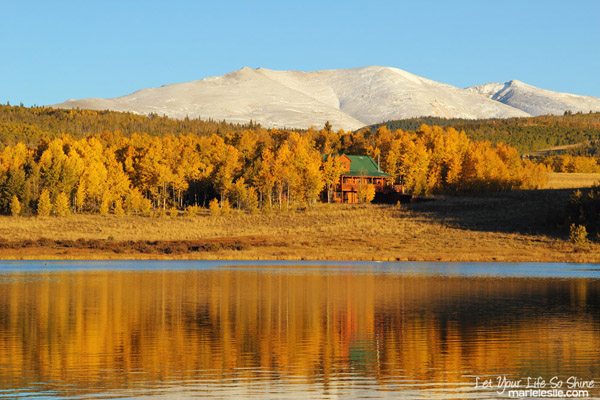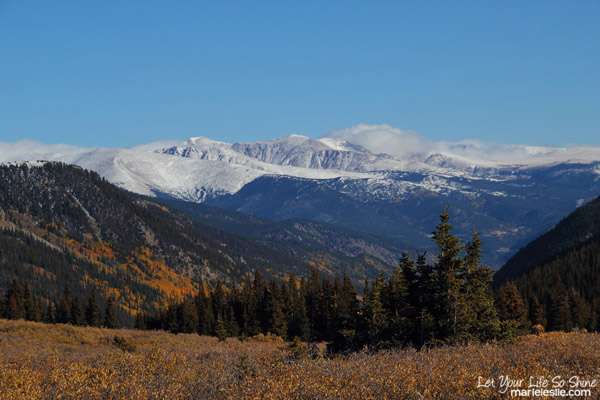 We ended our journey with a beautiful icy waterfall and reflections of fall in the one of the lakes that supplies water to Georgetown. If only those first hours after sunrise could just be stretched a little longer. I am already planning my next fall outing—I only have a few short weeks until it's all gone, you know, and I'll have to wait for next year.
To see more from our sunrise sojourn, stop by my Facebook page or visit my fall gallery on Google+.
Got any great Colorado destinations I need to visit and photograph? Feedback on this post? Please leave your comments below.