This week is National Parks week. I love our US National Parks. Over the years my camera and I have visited more than 60 parks and monuments. I hope to visit many more before I am through. In honor of National Parks week, today I am sharing some of my favorite National Park photography.
I have posted many times about trips to different National Parks and some of my favorite images there. For today's post, I am including some I haven't posted before, mostly from some of the lesser known parks, though I will post links to some of my other posts at the end. Just this past year, I have been blessed to visit Grand Teton, Yellowstone, Rocky Mountain National Park (my personal favorite), and Arches & Canyonlands National Parks.
Grand Canyon National Park almost defies description. It is an amazing place and I could spend a lifetime there photographing. I have visited both the South and North Rims, and the North Rim is by far my favorite. Not only is the drive in amazing but it's less crowded than the South Rim and I think the views even more spectacular. To get to the North Rim, you drive for many miles through beautiful mountains and lush green valleys and then finally into the Park. You wind through beautiful forested areas until you finally come to a park lot in front of a spectacular stone building. Walk into this historic monument and suddenly, through the massive windows you see that you are on the canyon rim and there it is before you in all its breathtaking glory.
Next up is Carlsbad Caverns National Park. I lived 10 years in New Mexico and it was the only place already on my wish list when I got there. I finally got to see it the week before I moved to Colorado. It's a fairly remote park, about six hours from my home, and though I traveled through Carlsbad twice before I got to visit, both times the park was closed for weather reasons. It is a surreal place and almost defies description. Someday I will get there again.
Badlands National Park is in South Dakota. South Dakota, at least the western half, is definitely NOT what I expected. I am not sure what I expected, but I was surprised by the beauty of the state. It's definitely a place I will visit again. We spent a long weekend there to see Mt. Rushmore and the Badlands. Unfortunately, the weather was crazy and the Badlands were socked in with a fog so dense that at times we couldn't see 50 feet in front of us. So, I'm not entirely sure what Badlands National Park really looks like, but it still made for some really cool photography. I rarely let a little weather slow me down.
Not all national parks include expansive vistas and incredible natural wonders. On my first visit to Washington, DC, nearly 30 years ago I was able to visit the Vietnam Veterans Memorial with my Dad, who served in Vietnam. He's the guy in the yellow shirt. For me, it was the most moving and significant part of the trip and I will always treasure this picture, though it is not the most impressive view of the memorial.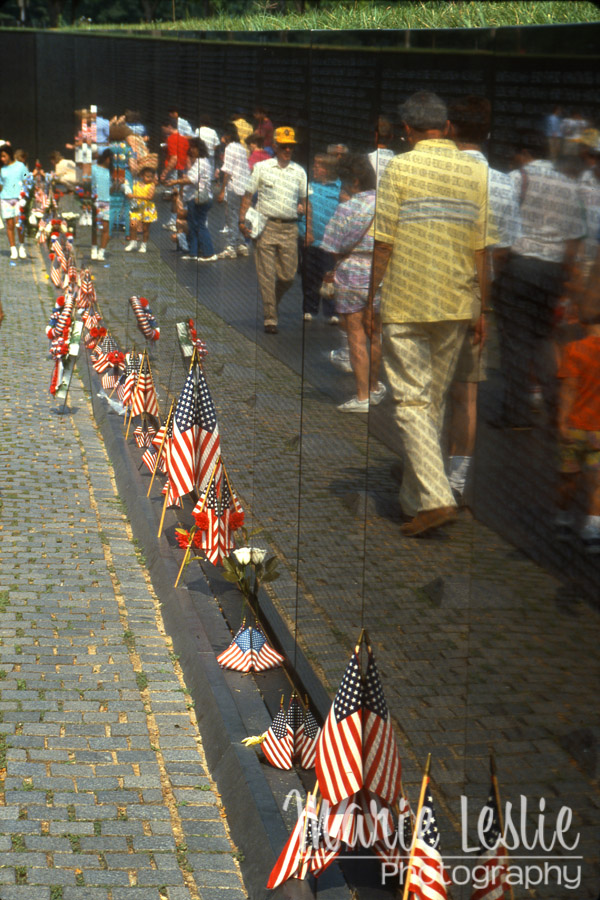 I have visited Arches National Park more times than I can count. I never get tired of it. Several years ago I made a field trip with a group of my fellow photographers for a photography weekend in Moab. This evening view of Delicate Arch was made on that trip. One of our group hiked down to the Arch with a flash so the rest of us could photograph it in the twilight. This image brings back great memories of one of the best field trips ever.
As part of that same trip, we photographed sunrise at Mesa Arch, part of Canyonlands National Park. It is a photographic icon, one of those must-do's. I am pretty sure if you are a photographer, it is a requirement that you photograph Mesa Arch at sunrise at least once when you visit Moab. Yes, you've likely seen this scene before. Microsoft included a similar image with their software for years. I don't know if they still do.
And now for the real story–and the picture that is really my favorite. This is what it looks like at Mesa Arch on any given day. These are my fellow travelers all photographing the sunrise at Mesa Arch. There were probably a dozen or so more photographers, not with our group, outside this image.
Most of these photographs are available for purchase in my galleries. If you click on the image, it will take you directly to the purchase page.
And if you'd like to see some of my other National Park photography, visit the links below.