Bread feeds the body, indeed, but flowers feed also the soul.  ~The Quran
It's finally spring.  Really, truly completely spring.
I can tell because the tulips are blooming.
Tulips are my favorite flower.  I had some planted along the front walk in my last house, but we're just starting landscaping and planting tulips didn't get to be at the top of my priority list last fall.
So, I had to go out and hunt for tulips.  And I found them.  In all their glorious rainbow colors.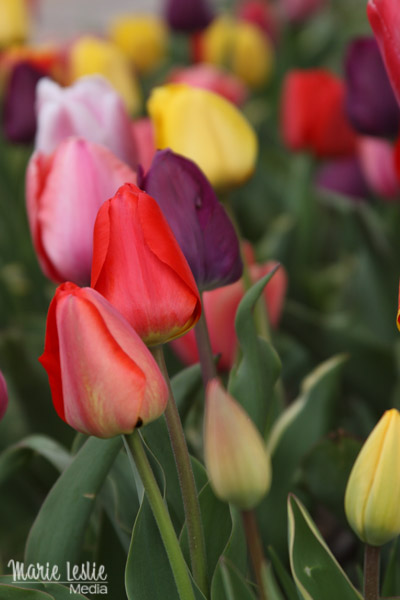 They were in the middle of a shopping mall.
Other than Rocky Mountain Chocolate Factory, we didn't visit any stores.
I was there for the tulips (and a caramel pecan apple).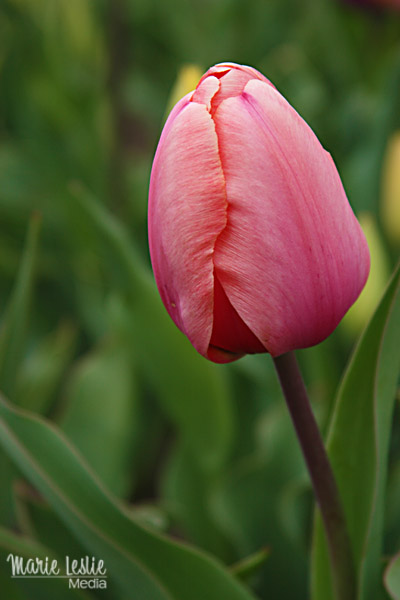 I was in seventh heaven.
They had beds of tulips on every corner and more surrounding the square where just a short time ago, hubby and the kids went ice skating.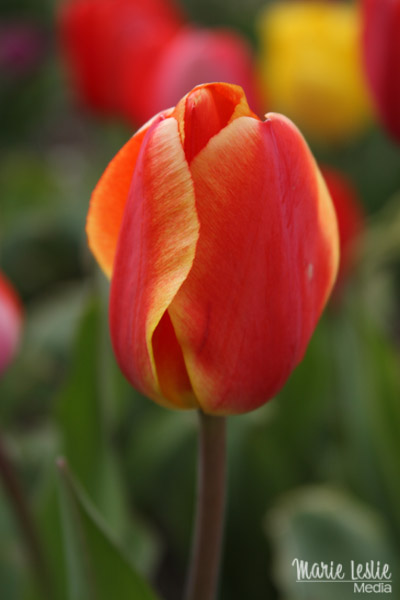 The creative possibilities were endless but my memory card wasn't.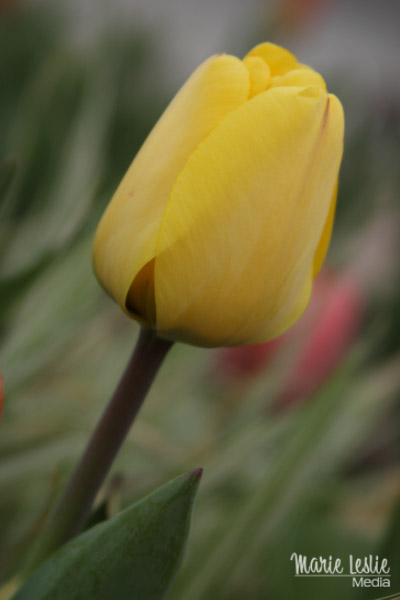 Definitely a tulip lover's paradise.
I think this one is my favorite.
I haven't had my fill yet.  Just last evening, I drove by the library and found a beautiful bed of long-stem red tulips.  Maybe I need to go to the library today.
I bet you'd like a few tips on getting really awesome flower shots.
Get close.  Flowers don't bite.
If it's a big bed, be sure to get some great over-all shots.  But mostly, get in close. If you have a macro lens (I don't at the moment) or a macro setting on your camera, this is just what it is designed for. Oh, and get eye level with the tulips. If you shoot everything from a standing position, it's pretty boring. If I can get down on my belly in the middle of a shopping center (yes, I did–it's my hubby's job to make sure no one trips over me or runs over me), you can do it, too.
Backlighting is good.
On this particular day, it was cloudy so the light is soft and that makes for nice images, but when the sun is out, try and get some with the sun either coming in from the side or from the back. This really highlights the flower's texture.
Look at the background.
Move around and try to find an angle that isn't distracting.  Bright white glare from a sidewalk, building or parked car can ruin an otherwise beautiful photograph. And no, the answer to that is not to "fix it in Photoshop." Most of the time just moving an inch or two either way will change the background. Flowers often look best against a dark background, whether it is a deep blue sky or the foliage of other plants.
Get creative.
Try some interesting crops, positioning or grouping of flowers.  Every flower image doesn't have to be the whole flower and stem. Many times a smaller view is more interesting and more powerful.
Remember the rule of thirds.
Don't put your flower in the center of every picture. Bo-ring. You don't know about the rule of thirds? Read this post about photography and the rule of thirds.