This is a sponsored post by UnitedHealthcare. All thoughts and opinions are my own.
It's the open enrollment time of year, and health insurance hasn't gotten any less complicated since last open enrollment. But choosing the healthplans you want to offer your employees has gotten much less complicated thanks to UnitedHealthcare's Small Business health insurance website.
I have discussed the  many benefits and how easy it is to use this site in an earlier post here, so today I will show you how easy it is to use. I've looked at many different insurance websites and I've yet to see one as innovative and easy to use for small business owners as UnitedHealthcare's Small Business health insurance site.
Whether you are purchasing direct or using a broker (yes, you can still use your broker), you can use UnitedHealthcare's Small Business Website to find, price and choose health insurance options for you and your employees—and it takes as little as 20 minutes. Since businesses with as few as two employees can purchase group healthcare, it's not likely your business will be too small.
Getting Started with Employee Health Insurance
The UHC website walks you clearly through each step. Before you begin, it's good to have your necessary information ready. This would include your business location, number of employees, your planned coverage start date, and basic employee information (more on this in a bit). If you have trouble at any point, you have questions or aren't sure what to do, a coverage advisor is available to help you via the website.
Choose Your Medical Plans
After you input your company information, you'll start by selecting your medical plans. The site will show you all available medical plans for your area. You have the option of offering all the plans, some of the plans, or only one plan. Giving multiple options allows your employees to choose the coverage that works best for them. If you want to narrow the selections, removing plans from your menu is as simple as clicking on the Remove Plan button. The plan screen shows you a brief summary with the highlights of each plan, and you can see the details for any plan by clicking on the plan details button,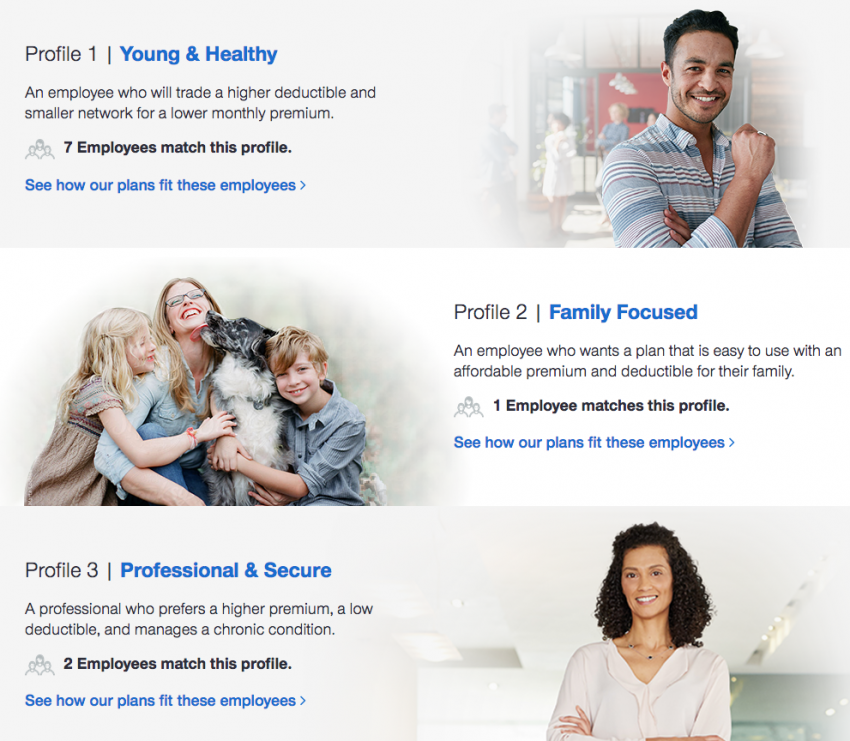 which will bring up a table of covered services, co-pays and limits. It also allows you to download a detailed PDF of each plan, so you know what's covered and what's not. In addition, this summary page shows you the employer cost, the average monthly employee cost, and the total average cost for each plan, so there are no surprises during open enrollment.
While you're reviewing plan options, you can "explore common employee profiles" to help you understand and gain insight into the needs of different employee groups. You can also organize the plans based on networks, metal tiers, and deductibles, while choosing from high-, mid- and low-deductible healthplans.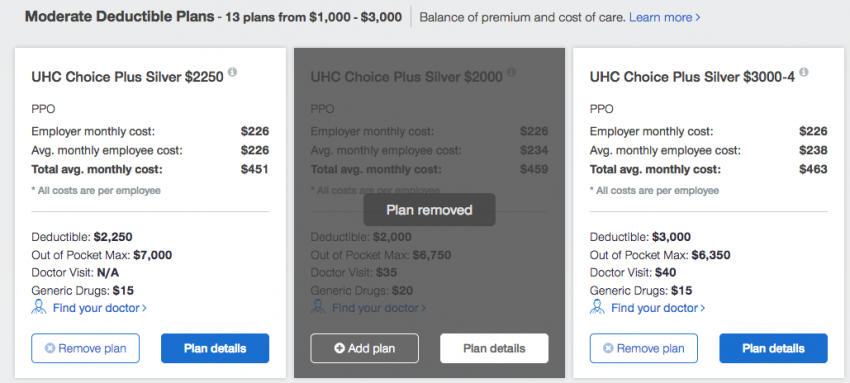 One thing to note here is that if you offer your employees six or more plans, they will have access to UnitedHealthcare's Employee Fit Finder tool—an interactive tool that helps employees select the right plan for them by asking them questions about their lifestyle and their family.
Add Employee Information
After choosing your healthplans, you can upload your basic employee Information to help you better estimate costs. You can do it manually, or you can upload from a program like QuickBooks or Excel. The website asks only for employee initials, zip code, age & gender, and there is also room to add spouses and children. Once you've done this, you'll be prompted to create an account if you don't already have one, so you can save your information. This does not commit you to the purchase.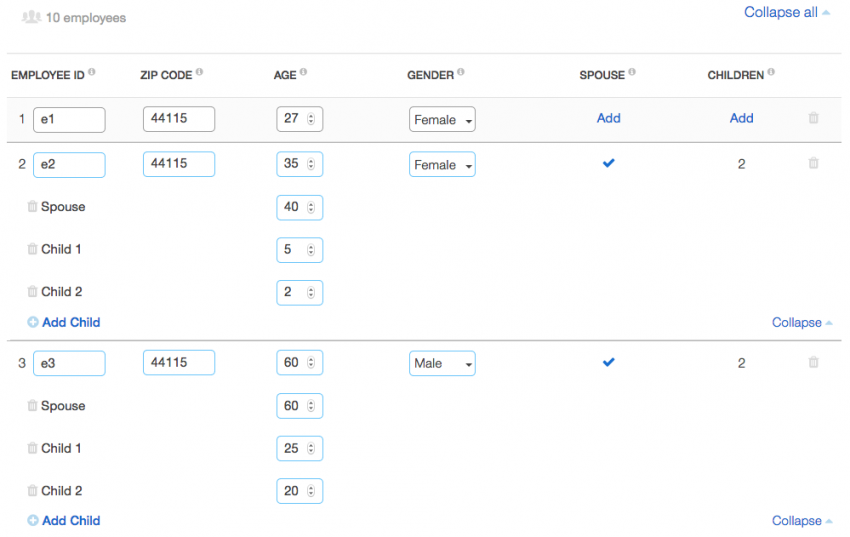 Set Your Monthly Budget
Once you've chosen which plans to offer and input your employee information, you can decide how much your monthly contribution will be. The site uses a slider that goes from minimum to maximum and allows you to easily view not only your per employee payment, but your total budget for healthcare. This gives you a fixed cost. You'll notice that the employee cost still varies; that's because it depends on which plan each employee chooses and whether or not they choose to cover family members.
In addition to health insurance, UnitedHealthcare is set up to offer employees the opportunity to purchase dental and vision coverage as well as life insurance at group coverage rates and terms. As an employer, you have the option of contributing to this coverage or allowing the employees to pay the full cost. Regardless of how you choose to offer it, you would do well to encourage your employees to seriously consider these additional benefits as the terms and rates are generally much better than if they purchased these insurance coverages privately.
In some areas, you can add additional employee benefits like dental, vision and life insurance, whether you wish to help pay for them or just offer the option so your employees can take advantage of group plans and rates.

Confirm Your Choices and Check Out
If you haven't already created an account, you can do so now. This will allow you to save, review, edit or share your quote. To complete your insurance set up, you will need to confirm the benefits package you've chosen and provide your billing information. Once this is done a coverage advisor will review your information and make sure that you are set up in UnitedHealthcare's systems and can help you with adding those specialty benefits we talked about earlier.
And that's all the more difficult it is for you to provide your employees with the healthcare benefits they need and want. Why don't you try it for yourself now at smallbusiness.uhc.com? Trying it out won't obligate you to buy insurance, and it will only take 20 minutes of your time.
The views expressed do not reflect those of UnitedHealthcare nor its affiliates. They are the personal opinions of the authors. While UnitedHealthcare has made every attempt to ensure accuracy, the information contained in these blogs may change and UnitedHealthcare assumes no responsibility for errors, omissions, contrary interpretations of the subject matter or information herein or for any losses, injuries, or damages arising from its display or use. These blogs may connect to other websites maintained by third parties over whom UnitedHealthcare has no control. UnitedHealthcare makes no representations as to accuracy, completeness, suitability, or validity of any information contained in those linked blogs or third-party websites. Blogs are for general informational purposes only and not intended to be medical advice or a substitute for professional health care.