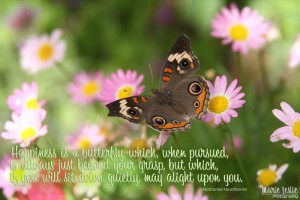 April has been a joyful month at our house.  It's also been a busy month.  It's spring, which makes everyone happier.  We've been out working in the yard, planting fruit trees and grapevines and preparing a garden plot.  We love to be outdoors and we love to work together.
We're also feeling abundantly blessed.  We've had many prayers answered and begun to accomplish many things on our to-do list as a result of those prayers being answered.
This graphic reminds me of that.  We haven't been out chasing down happiness, looking for things we think will make us happy or make our problems go away.  But we have been working, working together as a family to strengthen our relationships, to improve our home, to better ourselves and to provide service.
And the result of that process is that we are feeling blessed and happy at our house.
I hope you are feeling blessed and happy at your house, too.