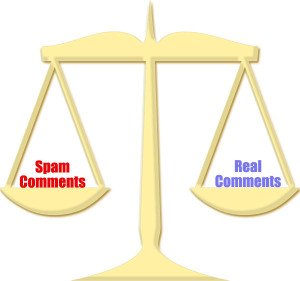 I love blog comments. I love knowing that somebody—anybody—is reading my blog and cares enough about what they read to comment on it. Of course, I love the good comments more, but I don't mind the negative ones—as long as they aren't rude and they aren't spam. I rarely delete a legitimate comment unless it's really nasty or vulgar in some way and, thankfully, those are pretty rare.  Spam, on the other hand. . . .
One of the questions I am asked most frequently is "how can I tell a spam comment from a real comment?" Some spam comments are no-brainers. You know these, they are either in some foreign language and—at least on my blog, it's usually an alphabet I don't recognize—they are pages long and make no sense at all. Either that, or it's a blatant plug for some scummy website.  I've never had Akismet (my favorite anti-spam plug-in) miss on these.
Some spam comments, however, are a little more clever and sometimes a little more difficult to discern. They nearly always get picked up by Akismet, but sometimes you look at them and wonder if they could be legit. And sometimes they get missed.
If you need help getting started with Akismet or need to know how to adjust your blog comment settings to minimize the possibility of spam slipping through, read this post on avoiding blog spam. 
Today's post will help you to recognize the clues I use to determine whether or not a comment really belongs in the spam filter. The numbers after each example correspond to the numbers in the graphics. To see the graphics larger and be able to read the text, just click on the images—they'll open full-size for you. Just use the back button to come back and finish the article.
Some spam comments are blatant and obvious.
Comments that show up in an alphabet you don't use on your blog can always be considered spam. I've yet to see any comment on my blog in Asian, Cyrillic or Arabic characters that wasn't spam. (1)
Comments that are ads for pharmaceuticals (2), targeted website traffic, links to random websites and long-winded missives (3) that are actually keyword-stuffed SEO junk trying to use your site to create links to trash sites are all spam.
Comments that are just a string of keywords are spam (4 & 5). Again, it's just black hat SEO types trying to build back links for their junk clients. These aren't sites you want associated with you—if you allow these to stay, you can be penalized by the search engines.
Some spam comments are more subtle and clever.
Comments that are very generic and don't seem to actually be related to the post are often spam. I'm not talking about things like, "Great post," or "Good points, here." Spam comments are more often like examples 6 and 7 below. Note example 6 is just generic, but #7 is completely unrelated to the post it is associated with. You can see which comments go to which post by looking to the right of each comment (oh, & in case you're looking for these posts, these comments aren't from my website but from a client).
Spam comments also will often have a name that doesn't match with the email address.  You'll notice in the screen shot that every spam comment has a name that is different from the email address. The names and websites/email addresses can also be a clue to know if a comment is spam. Any website that comes up as "facebook.com/profile.php?id=" followed by a string of numbers is spam—I've never seen one that isn't. Also, comments that include a generic website like "yahoo.com" or "google.com" are generally spam as well.
While occasionally there may be a difference in the email address and the poster's name (8), this should be a clue to you that the comment bears further investigation. When you're trying to determine whether or not an "iffy" comment is spam, here are a few more clues.
A common word will be misspelled. I've circled a few here for you (9) but if you look through the comments, you'll find one misspelled word in every post that isn't obvious spam. I'm not entirely sure why but I suspect it is an effort to bypass spam detection filters set to pick up on certain words and phrases. Comments with an odd syntax (generally from SEO spammers who aren't native English speakers) and criticisms of your site that don't make sense (like when I get comments about my terrible grammar and spelling) are also usually spam.
A note of explanation here: I bear no prejudice against my international readers. I think it's pretty awesome that I get visitors from around the world–and I also understand that the way you write in English isn't always the way I write–I learned that decades ago as a teen when I became penpals with my German cousin. But there is a difference between your awesome comments and the junk churned out by spambots created by non-native English speakers.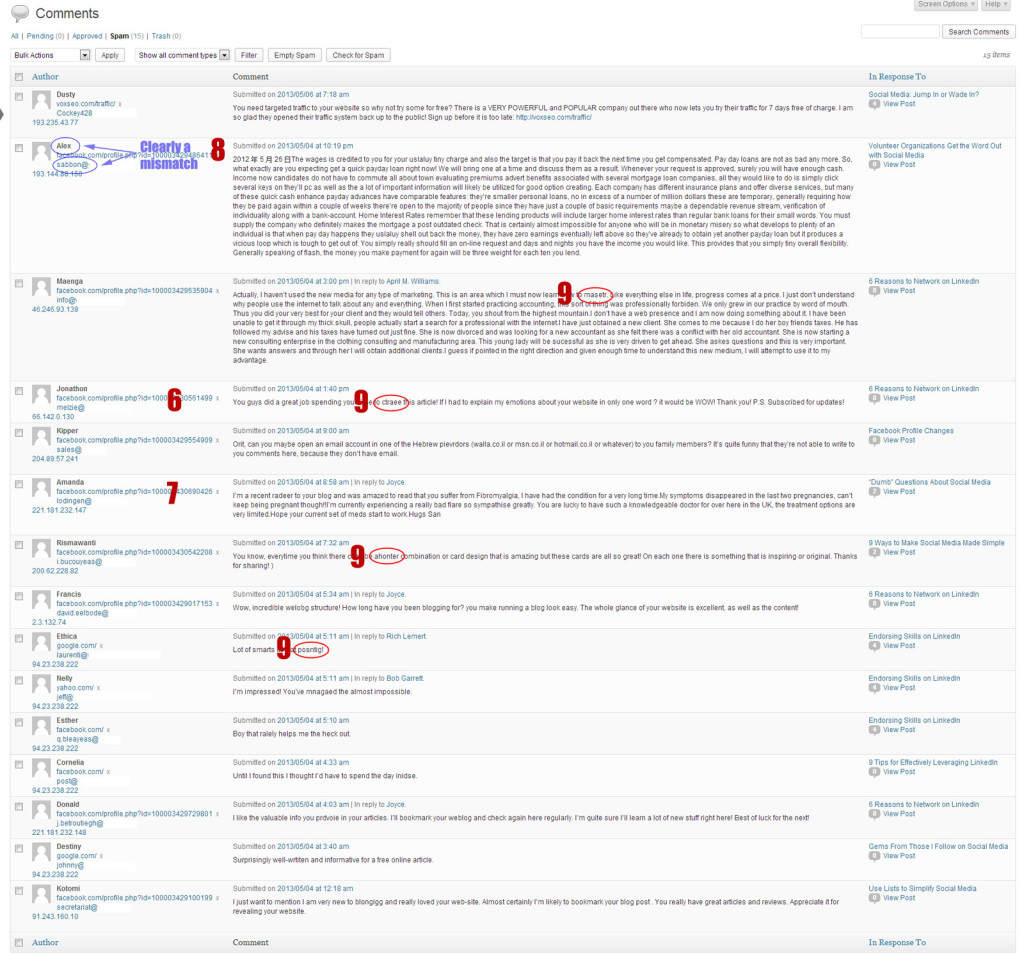 Finally, if a comment just doesn't sound right, look at it carefully before approving. It's your blog; you get the final word about what gets published and what doesn't. While I am an advocate of publishing every comment, even those critical of a post (aside from the vulgar or hateful garbage I mentioned before), I firmly believe in stopping spammers dead in their tracks, so I will err on the side of caution, even if it means I occasionally (and by occasionally I mean rarely) end up deleting a legitimate comment.
How about you? Have you found any sure signs of a comment spammer? Do you have any questions about determining spam comments? Please share your thoughts in the comment section below. I really do love blog comments and I love hearing from you.