I love marching band. If you don't know that, you probably haven't been following this blog very long.
Marching band is about the coolest sport ever. And if you don't think it's as difficult as any sport, you try memorizing several complex pieces of music, learning an intricate routine and then executing the whole routine while playing an instrument that can range in weight from 8 ounces to 40 pounds while wearing a wool uniform.
I was a high school athlete. I also played in the marching band. They were both equally difficult and challenging and require many of the same skills.
But today's post isn't a debate on the merits of marching band as a sport. Today's post is about photographing the band. Also a challenge, but definitely not a sport.
Marching band has changed a bit over the years and what you'll see more of in marching band performances probably depends on where you live.
I marched in a "parade" band in high school. While we performed a different half-time show at each of our school's football games during the season, our primary focus was parade competition and just about every Saturday in the fall we would travel to a different parade somewhere in southern California.
My children have all performed in "show" bands. This means they learn one incredibly complex and challenging field show (think half-time show on steroids) and perform it in competitions around the state.
My youngest is a member of the Hill Regiment Marching Band at Smoky Hill High School. This is her third year of marching band and she is having a ball. This also means I have lots of opportunities to photograph the marching band in action.
Today I thought I'd share a few favorites from the season along with some marching band photography tips for getting great shots of every performance, whether it's a parade or a field show.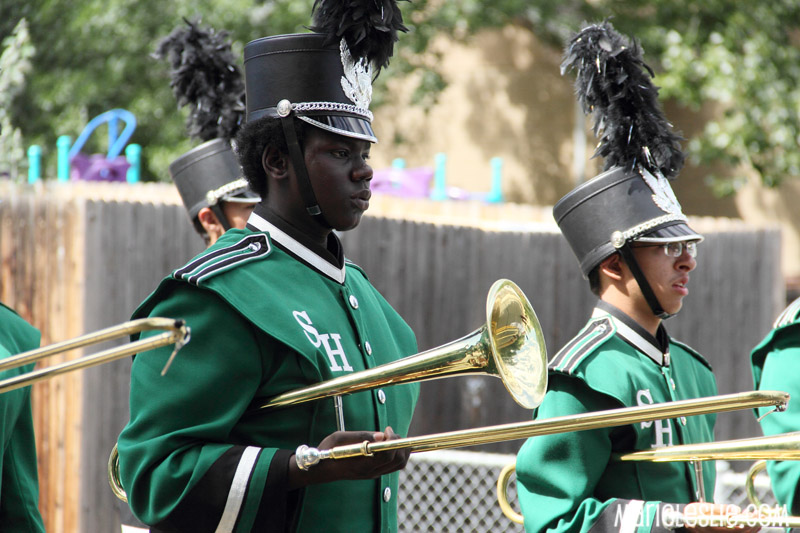 When photographing bands, look for photos that tell the story. A picture of the whole band is nice, but close-up shots show the emotion and tell the story of being a band member.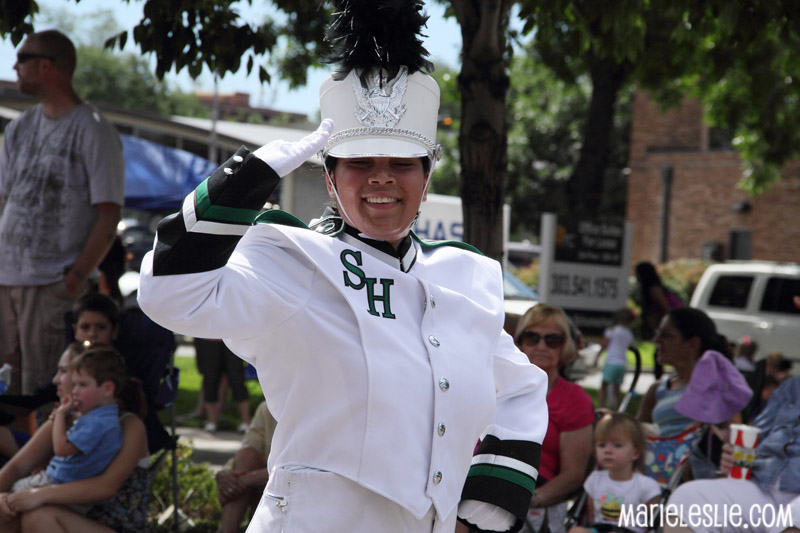 Individual close-ups, especially with a shallow depth of field separate your subject from the background.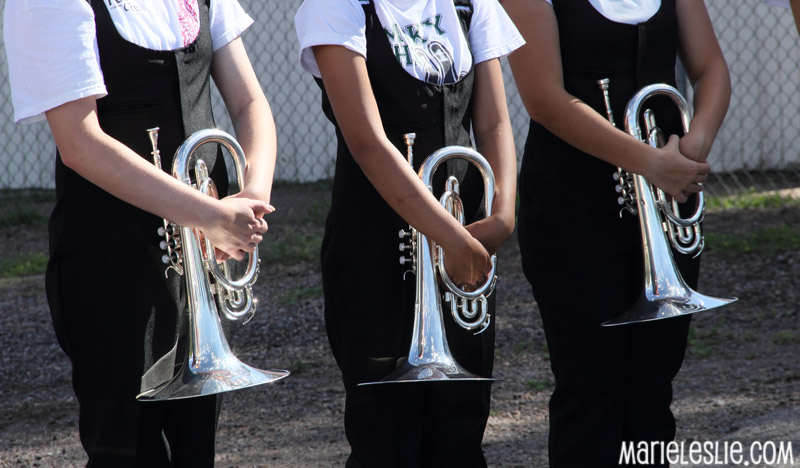 If you have the opportunity, preparation shots help tell the story of being in a marching band. Band photography also gives you a great opportunity to find patterns and shapes.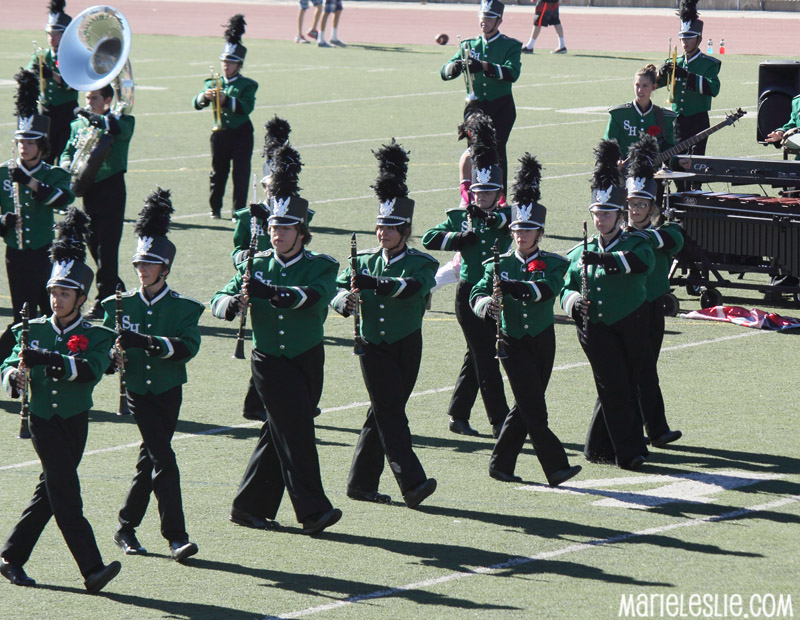 When photographing a field show, lighting, even in daylight can be tricky. The light-colored field and the (usually) dark uniforms present great contrast. If you are photographing on an automatic setting, it can wreak havoc with your exposure. I recommend doing an average light reading before the show starts and setting your camera on manual for better exposures.
Look for both group and individual opportunities. If you're photographing a band, both students and parents love to have those individual and small group action photos.
When photographing groups in the show, look not only for the opportunity to get some great pattern shots, but also groupings that tell the story of the show. Even though they are out of focus in the background, the raised arms of the pit (the stationary percussion elements of a field show) tell us that this image is of the show's finale.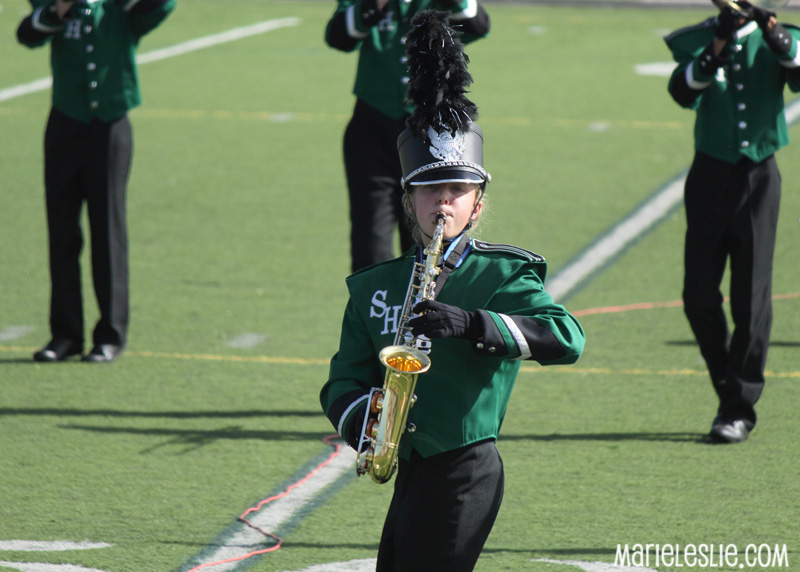 Using a shallow depth of field will isolate individual marchers from the band, allowing you to highlight the action.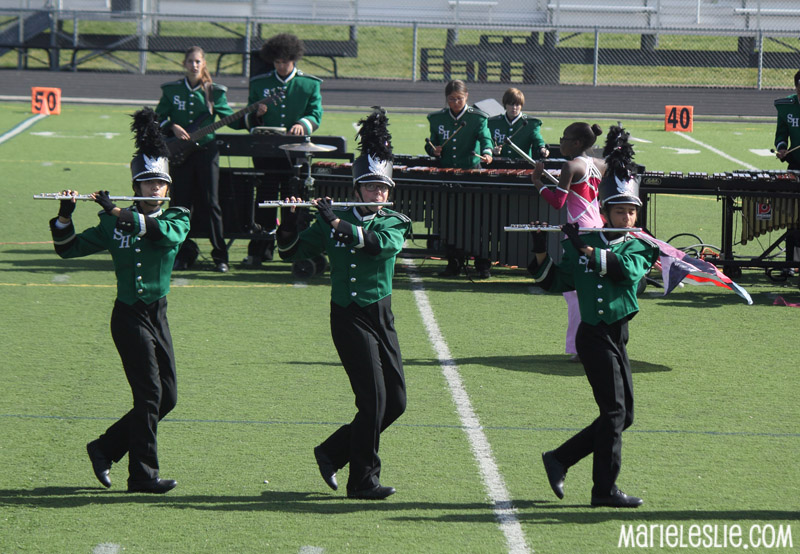 Full-length shots give a sense of action and motion to your photography. You don't want all of your photographs to be musicians standing still. Marching band is about music and movement. Convey that in your photographs.
And don't forget the color guard. They add contrast and color and additional interest to a field show. While they don't play instruments, their participation is essential to a complete show.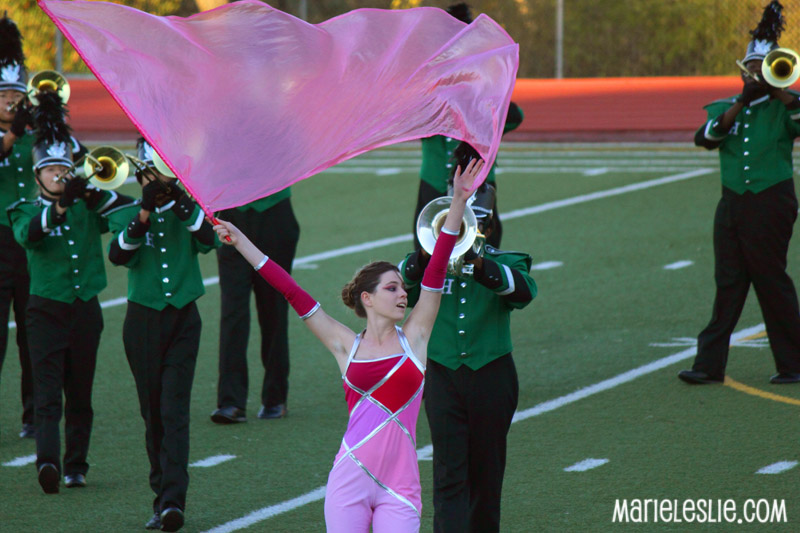 And they're just fun to photograph.
This is a good example of why you want to photograph your field shows using manual camera settings. During this show, half the field was in deep shade and the other half in bright afternoon sun. Combined with black and green uniforms, the exposures would have been all over the place with some photographs badly overexposed and some well under–or the camera would have adjusted the shutter speed to a setting to slow to stop their motion (and yes, marching bands move fast enough that you want a fairly high shutter speed for sharp, crisp photographs).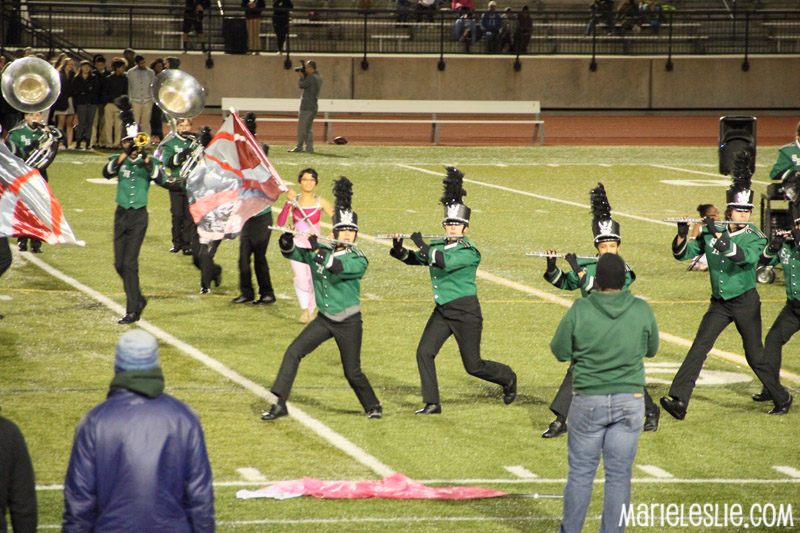 And sometimes you will find yourself photographing shows at night under stadium lighting. A flash won't work. You need to bump up the ISO on your camera so you can keep the shutter speed high enough to stop the action. With newer cameras this shouldn't be an issues. These images were shot at an ISO of 6400.
And if you would like to see more great shots of the Hill Regiment Marching Band in action,
visit the Smoky Hill Bands Facebook page here.