Yeah, I know.  Big deal, right?
Not so much.  We bought a car a while back.  Definitely not a new car, because we don't do new cars.  Despite the fact that my sense of adventure calls out for something four-wheel drive (with those heated hiney warming seats), my common sense–and my budget–led me to a mini-van.  We were looking for a car that could seat at least six, had front-wheel drive, had some cargo space and was mechanically and physically sound (I have very low standards when it comes to the exterior aesthetics of my automobile–that means, in plain English, I'm ok with kind of ugly).  We also wanted to pay cash for it–and I hate to part with cash.
We found a Mercury Villager that fit the bill and was well under hubby's budget (it hit mine on the nose–I'm more of a cheapskate than he is–sometimes).  It's older but actually a nice car.  Has all the bells and whistles–you know, power this and power that.  It doesn't have a lot of miles on it.  It needed a new windshield, but those are relatively cheap.
There was just one little (not!) problem with it.  The car's previous owner was a smoker.  Apparently, a heavy smoker.  And he owned it for many years.  So you can imagine what the inside smelled like.  Even though it was destined to be my car, I didn't test drive it.  I didn't drive it home.  I only drove it for the first time when I went to register it.  And now I love driving it.
It doesn't smell like smoke anymore.  In fact, if it weren't for the icky little cigarette burn holes in the carpet between the driver's seat and the door, you probably wouldn't know it belonged to a smoker.
So, now you're wondering how we pulled off this little miracle.  Well, lots of elbow grease, a Bissell carpet cleaner, a bottle of 409 and the most amazing odor remover I've ever found.  I surfed the net looking for smoke removal instructions, even got some advice from my firefighter brother-in-law (by way of my sister, of course).  And then I found Meguiar's Odor Eliminator.  It had a lot to live up to, so I was pretty skeptical about the claims, even after reading the testimonials.  But it worked.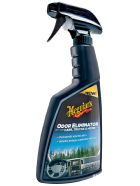 It's not an air freshener or a fabric refresher.  It really eliminates the odors.  I've tried lots of odor eliminators over the years (I have children and pets–they make lots of stinky messes), but none have ever worked like this.  You can find it online at their car care website, but we bought ours at Target.  We needed about 1-1/2 bottles to get it to my very picky satisfaction (we sprayed it three times over three days and it completely removed the smoke).
First, we took out all the floor mats, then we cleaned all the hard surfaces in the car with 409.  It was REALLY dirty and grimy, so this made a huge difference in the appearance.  It was pretty much all surface grime, a lot of it was smoke residue.  Then we cleaned the carpets and upholstery with the Bissell, using the Fiber Cleansing formula.  That made everything clean but the car still smelled.  We couldn't use it to clean the headliner, which was probably a large source of smoke.
After we let the upholstery dry, we thoroughly sprayed the entire interior with the Meguiar's and let it dry.  After two more dosings, especially the headliner, the car smells as good as a used car ought to smell.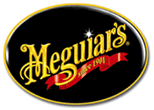 Note:  Meguiar's didn't pay me for this.  Meguiar's didn't give me a bottle of Odor Eliminator.  Meguiar's doesn't even have a clue that I exist.  But their stuff is that good!
You can get to their website by clicking on their logo.
Wanna go for a drive?