I am a die-hard road tripper.  Really, there is no better way to see the USA.  I love to hit the road, camera at my side, my best tunes on the iPod and a cooler full of snacks.  I'll travel alone, with my kids, with my sweetie, with friends.  I'd rather not take the dog.  But after my latest road trip (with the family in tow) I have decided winter is most definitely NOT my favorite time for a road trip.  I've made several road trips in winter over the last several years, more than a few of them solo.
Traveling from Albuquerque to San Antonio was a wild trip with snow, fog, freezing rain and ice that delayed my trip home and made me miss seeing Carlsbad Caverns (who would have thought a National Park in the middle of the desert would be closed for snow?!).  Traveling from Albuquerque to San Diego was always a piece of cake–well, except for that one time with four kids, a carsick dog, snow, a flat tire and a detour.  Albuquerque to Denver?  I've done it so many times I've lost count.  I've even traveled from Albuquerque to Provo a couple of times.
Last month–the weekend before Christmas, no less–we needed to drive from Denver to Provo for a family wedding.  We took I-70 because it's a couple of hours shorter for this particular trip than I-80.  We left Thursday afternoon after everyone was out of school and off work.  The trip out wasn't bad, though we did have a few interesting moments.
The first one came as we were entering the Eisenhower Tunnel, which, at 11,150 feet or so was the highest point of our trip.  It also happens to cross the Continental Divide and is the world's highest vehicle tunnel, for those of you interested in such mundane trivia.
When we got to the tunnel it was already dark and getting pretty cold.  Just as we entered the tunnel, we heard a loud bang in the car.  The car didn't stop running and we didn't have a flat tire.  It was loud enough to make us all jump and we started wondering what horrible fate was about to befall us.  It took us a few minutes, but we finally discovered that the bag of Kettle Chips we'd brought to go along with our Subway sandwiches had burst.  Moral of the story:  always open the potato chip bag BEFORE you get to the top of the mountains.  When we finally figured it out, we all had a good laugh.
The kids also enjoyed watching the car's thermometer drop as we crossedSoldier Summit in the Wasatch Mountains around midnight.  It got down to -7 f.  We were all happy that our little car has a good heater and we didn't have to get out.
We had a great time in Utah, visiting with all my hubby's family–we had everyone there except our oldest–no easy feat when you consider there are now several adult children with families of their own.  We were there for the wedding of nephew #4, and since we had nearly all the family present, we did make some family portraits (but that's another blog post) and, of course, we photographed #4's wedding (also another blog post).  The weather was less than cooperative for us, but that's the peril of a December wedding.
We needed to head back on Monday morning and you can imagine our surprise when we awoke to  a good six inches of snow on the ground and  more flakes falling heavily.  We quickly got everyone up and the car loaded and headed out for what we knew would be a long day on the road.  We weren't disappointed there.
Soldier Summit was a much scarier proposition in the daylight than it had been at midnight.  Normally when we roadtrip, we have to make quite a few photo stops.  Despite the beautiful snow scenes we passed, I knew this trip wouldn't include any stops.  There were quite a few places–nearly the entire trip over Soldier Summit included–that stopping would have meant not being able to start again.  So, I had to content myself with a few documentary photographs from the passenger seat to chronicle our crazy trip home.
Why is it that the snowplow is always on the OTHER side of the road when you really need it on your side?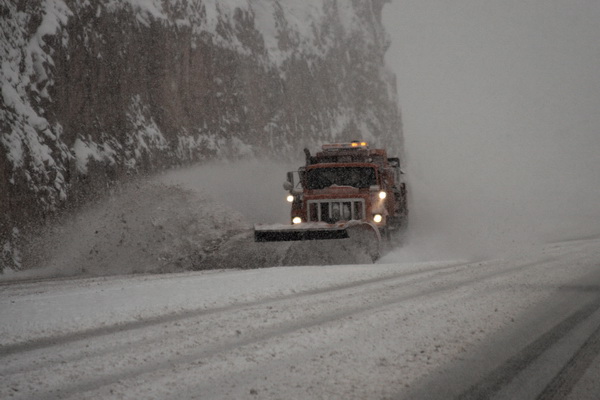 I was really glad to know we weren't the only insane people on the road.  By the way, these photos were taken around 10 a.m. and I didn't enhance them or alter the exposure in Photoshop.  It was this dark.  And snowing this hard.
And in case you're wondering why we braved Soldier Summit and didn't just go up to I-80?  Well, 80 was already closed out of Salt Lake Monday morning so it was Soldier Summit or stay in Provo.
This is definitely one of the highlights of the trip.  Every time I have made this trip (US 6/191) in the winter, I have stopped to photograph this frozen waterfall.  It's just west of the town of  Price on the east side of the Wasatch.  I just love it.  We didn't stop this time, but I still managed to get a photograph in.
After we left the Wasatch, we actually left the snow for a time.  We had a little rain as we continued down to 70 and then the sun even tried to come out.  I was a little disappointed that my girls have still not really seen the beautiful views of the Rockies from I-70.  That was one of my hopes for the trip.  We had too many low clouds, even a little fog as we headed back into the mountains.  This view is the western slope near Eagle.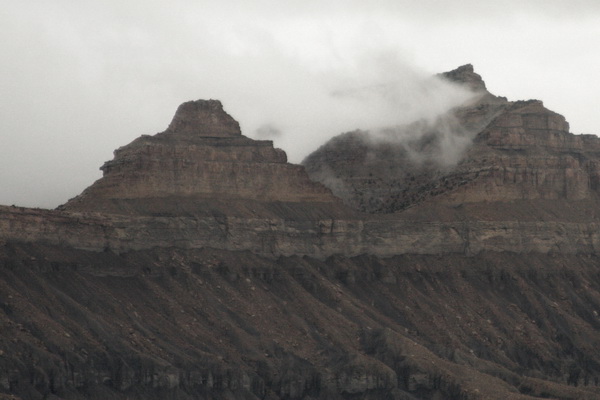 As we headed out of Grand Junction, freeway signs warned us the Vail Pass was closed.  Even though we really didn't relish the thought of having to pay for a hotel room in Vail during Christmas break, we decided to continue on.  About 10 miles before we hit Vail, the pass re-opened.  We were feeling watched over.
Amazingly, despite the low clouds, the constant precipitation and lots of snow on the roadsides, we didn't actually get any snow until AFTER Vail Pass.  We were feeling blessed.
And just after Vail Pass, we were joined by four snowplows and de-icing trucks who led the way for us all the way over Copper Mountain.  We were definitely feeling mighty blessed.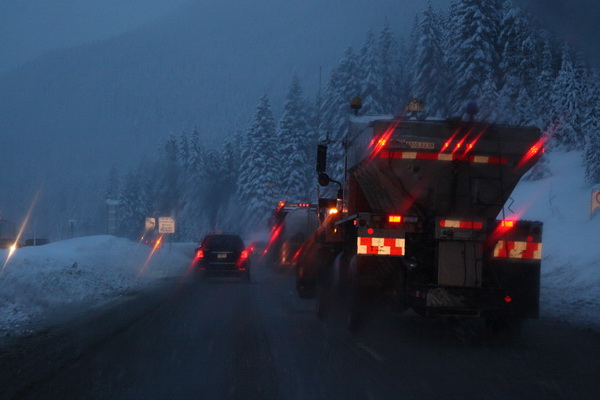 But the fun wasn't over yet and we were soon wishing for our snowplow escorts.  Because of the heavy snow, the Eisenhower Tunnel had to be closed periodically to allow hazardous-material trucks that normally take an alternate route to go through.  We had to sit and wait about 30 minutes for our turn to go through–on an icy upslope.  I entertained myself by taking a few twilight shots of our winter wonderland.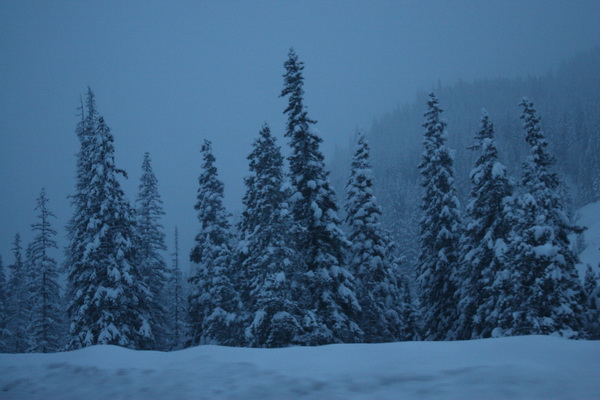 When it was finally our turn, I wasn't sure we were going anywhere and really hoped that the truck behind us might have a push bumper.  But our little car (yes, we put three adolescents and two adults and all their luggage and camera gear for a wedding into our little Passat for this trip–I've never missed my van so much) finally managed to find some traction and we made it into the tunnel right behind a semi.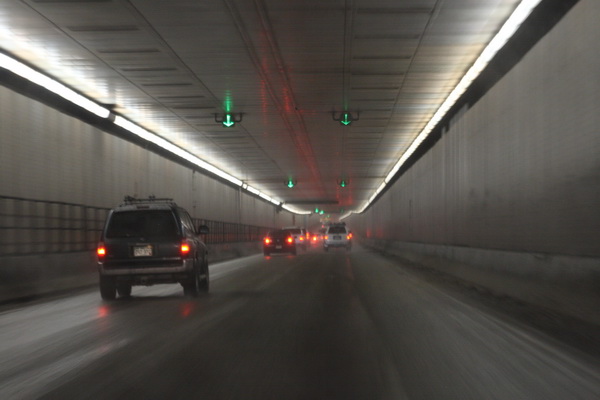 And so now you'd think we were safe in the homestretch.  But as we came out the east end of the tunnel it was icier than the west side and we watched the semi right in front of us slide across the road and start to lose control.  But he pulled it back before he slid off the road and we were feeling more than blessed.
Eventually, we made it out of the mountains and back to our happy little home in Aurora where nary a snowflake had fallen the entire time we had gone.
Are you wondering why we didn't just delay a day?  Tuesday was worse than Monday.  The tunnel was closed for several hours and the snow was worse.
That's not a trip I'll be wanting to make again in the dead of winter.  I'm road tripping to Albuquerque next week.  I'm putting in my order now for sunshine and dry roads.