You know the story–the shoemaker's children always go barefoot–and the photographer's children never get photographed.  And the twist on that is one of the reasons they never get photographed is that they're horrible in front of the camera.  I always hear stories from other photographers about how hard it is to photograph their own children.  They're uncooperative or they won't smile or they just refuse to be photographed.
I guess I'm lucky.  I have a house full of little (well, not so little anymore) camera hams.  They are always ready to stand before my lens.  Sometimes they even tell me that we need to go out and make some portraits.  So, today, I thought I'd share a few of my favorites with you and the stories behind them.
This one is my favorite portrait of my kids ever.  We try to do a Christmas card every year and this particular year, it was getting late and I just hadn't gotten around to it.  So, one Sunday morning when #1 was home from college for the weekend, they set this up for me.  We did try to get the dog in, but apparently I have the "shoemaker's dog" because she is more uncooperative for pictures than any of my kids ever were.  Even bribery can't get her to pose properly in a group portrait.  But I love this portrait anyway.  I do have the cutest kids ever.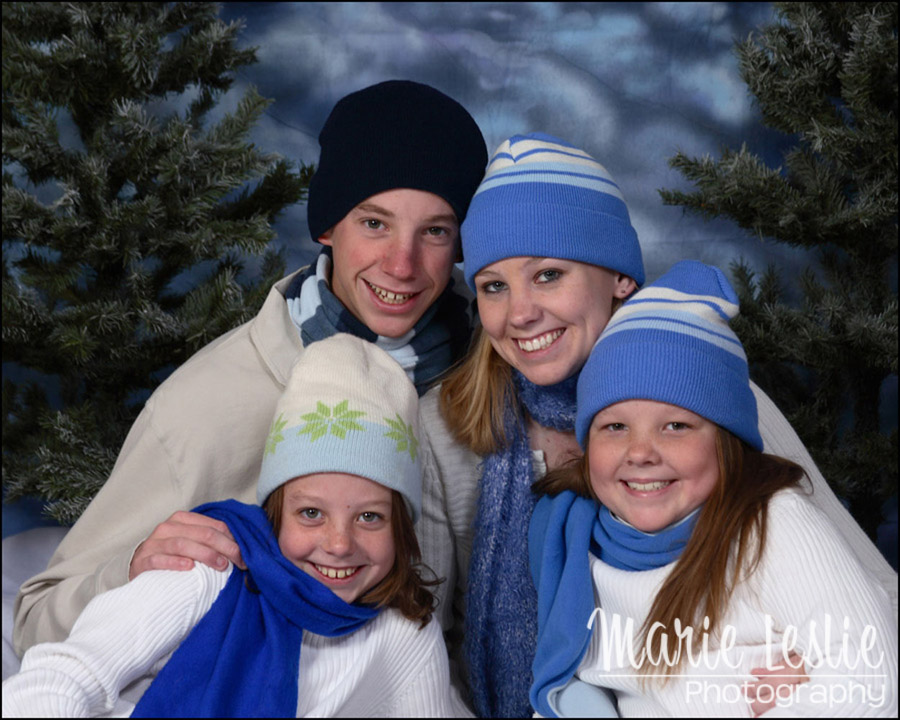 Nearly ever year, since #1 was a tiny baby we have traveled to Colorado to visit Aunt D.  We just love Aunt D. to pieces.  She lives in, as my kids have always called it, the Little House on the Prairie.  You can see more about Aunt D here.  On every visit before we leave, we have made a portrait on her kitchen porch with all the kids.  We really have these going all the way back to #1's baby portrait on the porch.  One day very soon I'm going to find them all and put them in a special book together.  She's a VERY petite woman, so one of the milestones of growth for the kids has been to finally be taller than Aunt D.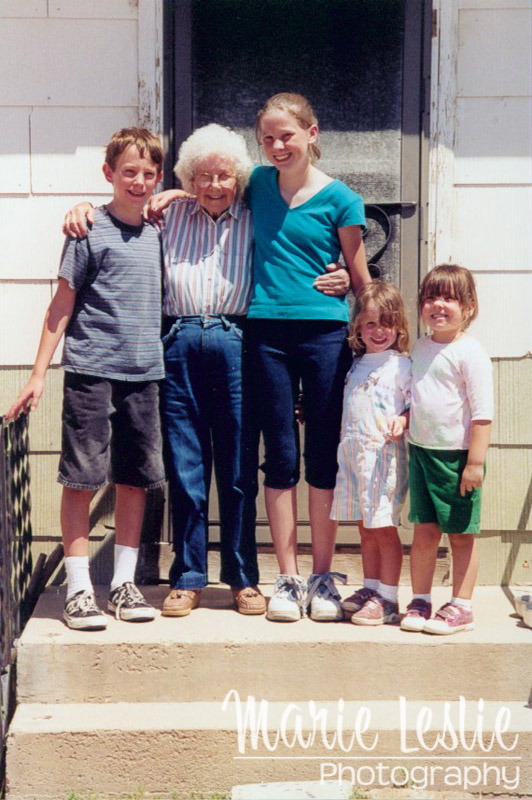 Once you get taller, you get a solo portrait.  For what it's worth, they've now all passed her up.  Not by much for our youngest, but they've all passed her and have their solo portraits.  But when you're the first to grow, you get to be on the blog.
Once upon a time, when I had a lot more free time in my life–or at least I thought I did–we decided to make a portrait calendar.  We only had two kids then and we set up a different scene each month.  It really was great fun; someday I might have to do it again.  This is my very favorite of all the calendar shots.  It was the day after Valentine's Day (that's how you get giant boxes of Valentine chocolate for half-price).  The plan was that Boy-O would give #1 the flowers and the chocolates and it would be sweet and adorable.  Well, somewhere along the way Boy-O figured out how to open the box of chocolates.  And, well, you can see how that all went down.  Priceless.
I love National Parks.  One of my goals is to someday visit ALL of the National Parks.  I'm not sure I'll ever make it to all of them, but we do our best to visit every one we can.  White Sands quickly became a favorite place to visit after we moved to New Mexico.  (For what it's worth, I do know that White Sands is actually a national monument, but I don't make a distinction).  It's a great place to visit in the winter.  We used to go just about every President's Day weekend for a sledding trip.  There's nothing like being able to go sledding in your shorts in February and not get wet or cold.  Of course, we had to just about turn the kids upside down and shake them out before getting back in the car to go home so we wouldn't take too many souvenirs home with us.  This portrait is from our first trip.  If you're counting, I'm sure you noticed we have an extra kid.  A common occurence on family outings.  She's a loaner child, one of #1's friends.  We named this portrait "Veni, Vidi, Sleddi"  Yep.  I love bad puns.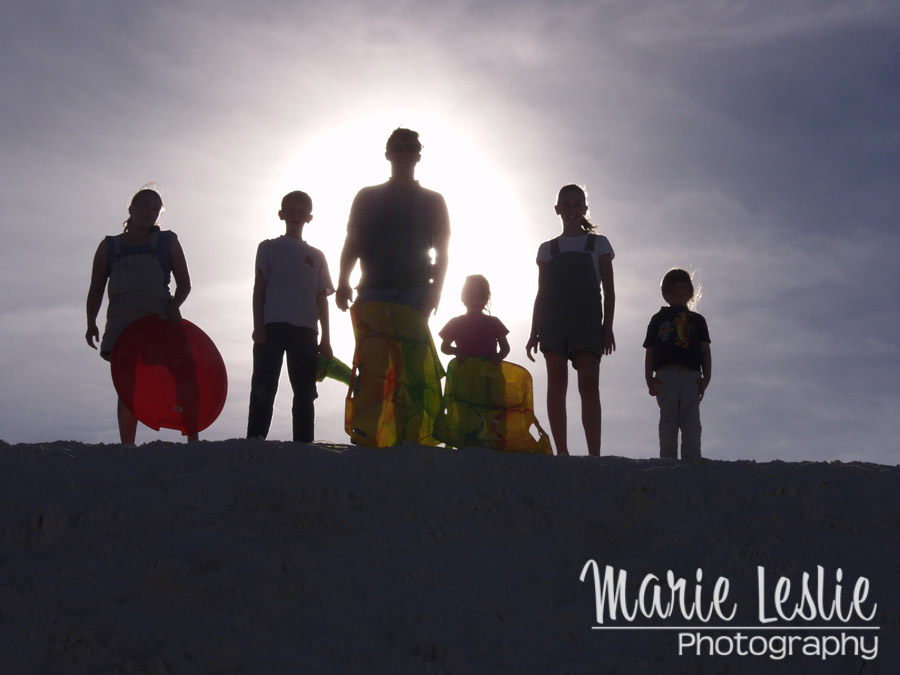 So, I realized that this could be a very LONG blog post.  I have more favorites, but we'll save those for another day.
Oh, and while my kids are wonderful in front of the camera, I'm about 20 years behind in scrapbooking.  Guess I'm spending too much time on everyone else's pictures and albums.  Someday. . .