If I had to pick one question that I have been asked more over the years than any other, it would be "What kind of camera should I buy?" That question isn't as simple as it might look. I have to ask you a lot of questions back to figure out what kind of camera might best meet your needs:
Why do you want a camera?
What are you going to do with it?
Do you want something you can stick in your pocket or purse to take quick pictures of your kids, or are you wanting to learn the craft of photography?
If you want something for easy family/vacation/fun photos, you will probably be happy with a point-and-shoot camera. They are generally compact and lightweight with simpler controls and lots of presets.
If you want to become a photographer (either by vocation or avocation), you want to look at DSLR cameras. DSLR stands for Digital Single Lens Reflex. SLR means that when you look through the viewfinder you are actually looking through the lens—the ultimate in "what you see is what you get." DSLR cameras have interchangeable lenses—you can put different lenses on the camera body– from ones with a very wide angle of view, to ones with a very long telephoto for great distance shots, so you have many more options.

What's Your Budget?
And then there is the question of budget. You can spend as little as $50 or as much as $10,000. For a good point-and-shoot camera, you should expect to spend somewhere between $150-$300, depending on the features.
An entry-level DSLR can go for as little as $500 with a lens and the prices increase from there, depending on the accessories and features you want.
I recommend that you not only read articles like this, but go to a camera store and look at the cameras, try different ones. How do they feel in your hands? How easy are the controls to operate? Once you've found cameras that meet your other needs, make sure it is going to be comfortable and easy to use.
And where should you buy? There are many options. I have purchased from local camera stores, I have purchased from the big camera stores in New York, and I have purchased from Amazon. I have been equally happy with all of them. Where you buy depends on how much hands-on help you want or need during the buying process.
---
And since you asked, I am a Canon girl. I have owned Canon cameras since college, and even after testing out all the others out there, I still like Canon best. So, if you scroll to the bottom of this post, you'll find my favorites for Advanced Photography, Learning the Craft, Point-and-Shoot, and Pocket Cameras, along with handy links to order them from Amazon.
Terms to Know to Choose the Right Camera
Here are a few key terms you will hear or read while camera shopping. These are things you need to know to help you choose the right camera for you.
Megapixels—a megapixel is one million pixels. When you are making photographs that you will want to print, more megapixels are better than fewer megapixels. You can always use software later to make a high-megapixel photograph smaller (like for emailing), but you can't improve a low-megapixel photograph and make it better. The more megapixels your camera has the sharper and more detailed your images will be.
Shutter lag--Shutter lag is the delay between pushing the shutter button and when the photograph is actually recorded. A longer shutter lag means you may miss the action you were trying to capture in a picture. Cameras with shorter shutter lags are always better than cameras with a long shutter lag. Shutter lag can range from .04 seconds in higher-end DSLR cameras to over 1 second in some very basic point-and-shoot cameras.
Autofocus–Autofocus means that the camera focuses for you. Some cameras, again usually higher end models, can focus very quickly, while some of the more basic models are slower to focus, making it difficult to capture quick action. Having the option of focusing manually is nice, especially if you are wanting to learn photography.
Flash—a camera flash can help you take better photographs (or photos at all) at night or indoors. It's important to note that the flash built in to your camera is only good to about 12-15 feet away. It's not going to help you light up the stage at your child's school play.
ISO Range—ISO setting on a camera controls how sensitive it is to light. The higher the ISO number, the less light you need to make a usable photograph. Low ISO numbers work great for bright light and higher numbers allow you to photograph in darker conditions. There is a trade-off though. The higher the ISO number, the higher the "noise"  or digital distortion your picture will have, reducing the image quality.
Optical zoom v. digital zoom—Zoom on a camera is used to bring far away objects closer and enable you to get closer to your subject without actually moving closer to your subject. An optical zoom is a true zoom lens like you would find on a film camera or a high-end DSLR camera (like the pros use). A digital zoom enlarges the middle of the image you are taking and discards the outer areas. It does basically the same thing you would do if you opened your photograph in a photo-editing program and cropped just to the middle of the photo. Digital zoom photos will see a decrease in image quality over a photo made with an optical zoom. If you are going to take lots of zoomed photos, you will want a camera with a larger optical zoom range.
viewfinder v. view screen--The viewfinder or view screen is what the photographer looks through or at to compose their photograph. A viewfinder is generally a small opening you would put up to your eye to look through. They are common on older film cameras and higher-end DSLR cameras. Many newer cameras, especially compact models have only a view screen much like using your Smartphone to compose a photograph. Which one you choose is entirely a matter of personal preference. I do find view screens to sometimes be a challenge outdoors in bright light.
Marie's Camera Recommendations

For Advanced Photography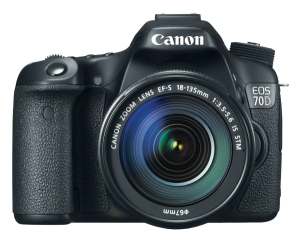 Canon EOS 70D Digital SLR Camera with 18-135mm STM Lens–this camera is great and this is my basic go-to lens. I have made many an outing where I never used any lens but this one and created some prize-winning photographs. This is the camera for serious amateurs and those pondering on the possibility of eventually turning pro.
For Learning the Craft
Canon EOS Rebel T6 Digital SLR Camera Kit with EF-S 18-55mm and EF 75-300mm Zoom Lenses--this camera kit is great for those who want to make the jump from point-and-shoot to something with more options and more creativity. These two lenses will cover just about anything you ever want to photograph. It's less complex than the camera above, but still offers endless creativity.
Point-and-Shoot
Canon PowerShot SX420 IS with 42x Optical Zoom and Built-In Wi-Fi–This camera is great for on-the-go. It has a great zoom range and it's wi-fi compatible, which means you can post to social media right from your phone. Yes, that's better than cellphone quality (way better) and still social media ready to share those moments with your friends and family without being at the computer.  and for the fashion conscious, this camera also comes in red (I have a red one).
Pocket Camera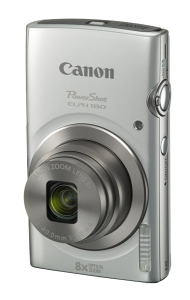 Canon PowerShot ELPH 180 with 20.0 MP CCD Sensor and 8x Optical Zoom–This camera is light, quick and small enough to slip into your pocket or purse. It's barely bigger than a smart phone, but the photo quality is way beyond what I've seen out of nearly any camera phone. Not surprisingly it's the most affordable of the bunch as well. And this camera comes in red too.